See on Scoop.it – Good Things From Italy – Le Cose Buone d'Italia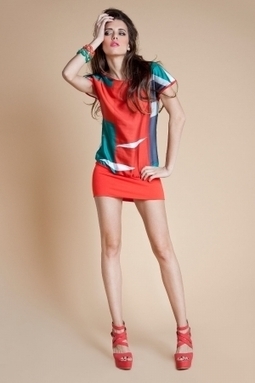 Sales SPRING/SUMMER 2012 : dress in printed satin, Polyester 100%. Final price 89,00€ – discount 56€
EMANUEL SPA è un'azienda nata nel 1970 dal lavoro e dalla creatività del Sig. Alfio Baldassarri. Nel
corso degli anni entrano a far parte dell'azienda i figli Emanuele ed Andrea che hanno esercitato
ruoli e incarichi nei diversi settori strategici fino ad arrivare, dopo più di dieci anni di impegno e
dedizione totale, ai vertici dell'Emanuel Spa. Attualmente Emanuel Spa produce e distribuisce il
marchio AB/Soul ed il marchio Emanuel Jeans Extrasize, marchio Italiano storico nel settore delle
taglie forti sportswear.
EMANUEL SPA is a company settled in 1970 from the work and creativity of Mr. Alfio Baldassarri.
In the course of years both sons, Emanuele and Andrea, took part into the Company with roles and
charges in different strategic sectors and after yearly engagement and devotion they gained the top
management of Emanuel Spa. In this moment Emanuel Spa produces and distributes the brand AB/Soul and the
brand Emanuel Jeans Extrasize, historical brand in the Italian sportswear extra-size sector.
See on www.absoul.it