See on Scoop.it – La Cucina Italiana – De Italiaanse Keuken – The Italian Kitchen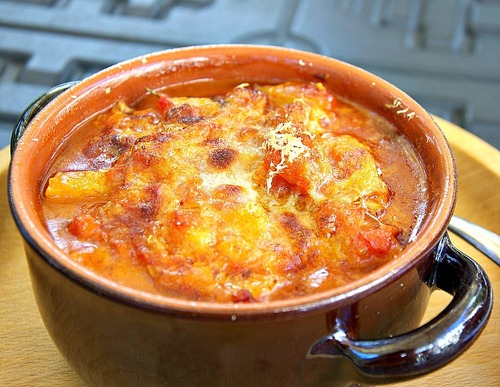 Traditional Italian cookery has many tripe recipes. (Back in the day, Italians practiced snout to tail cooking out of necessity, not because it was trendy.) Indeed, tripe was a fixed part of the Italian diet and Saturday was the traditional day for eating it, just as Friday was for fish and Thursday for gnocchi. Sabato trippa! is an ancient tradition.
Memorie di Angelina has already featured trippa alla romana, the typical tripe dish of Rome, with its touch of peperoncino, subtle hint of mentuccia (Roman mint) and sharp romano cheese, and Milan's buseca, milder but hearty with fagioli di Spagna (butter beans). For this post, I was going to feature another very famous tripe dish, trippa alla fiorentina from Florence, but after some unexpected guests showed up at our door, I found that I didn't have nearly enough tripe to go around, so I stretched it out with potatoes, spooned the resulting stew into individual terracotta bowls and gratinéed them in a hot oven. It turned out to be a delicious variation on the theme, and well worth sharing with you, dear readers. As they say, necessity is the mother of invention.
Ingredients (serves 4-6 persons)
1 kilo (2 lbs.) pre-boiled tripe, cut into bite-sized strips (see Notes below) 1 onion, finely chopped 1 carrot, finely chopped 1 stalk of celery, finely chopped Olive oil A splash of white wine 250g (8 oz) canned tomatoes, crushed with your hands 4-6 small to medium potatoes, peeled and cut into wedges Salt and pepper
Optional:
A bay leaf
If finishing in the oven:
Parmesan cheese and butter Click for directions
See on memoriediangelina.com