See on Scoop.it – La Cucina Italiana – De Italiaanse Keuken – The Italian Kitchen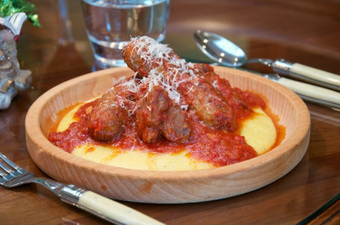 […]
Ingredients (serves 4-6)
1 large onion, chopped1-2 cloves of garlic, chopped (optional)Olive oil or lard4-6 sweet Italian sausages (or more if you want)4-6 spareribs (or more if you want)A splash of red wineSalt and pepper2 large cans of tomatoes
Start out, as usual, with a soffritto, this one of onion and, if you like, a bit of garlic sautéed gently in olive oil or (better) lard until soft and translucent.
Turn up the heat a bit and add your sausages and spareribs. (I fine that one rib and one sausage per person is a healthy portion for a moderate appetite, but you may want to a add few more of each in case someone wants seconds.) Allow the meat to brown lightly. Depending on the size of the pot and how much meat you are using, you may need to do the browning in batches to avoid crowding them.
Once lightly browned, season with salt and pepper, and then pour over a nice slurp of red wine and allow it to evaporate.
Then add enough tomato purée (in the US, use 'crushed' canned tomatoes or whole canned tomatoes passed through the largest holes of a food mill) to cover the meat. Lower the heat and cover. Let the sugo simmer for a good hour or more, until the meat is tender and the sauce is nice and thick and rich.
Meanwhile, make a batch of polenta in the usual fashion (see our post on How to Make Polenta).
When you are ready to eat, pour the polenta on to a large serving bowl or—if you really want to eat it in the traditional manner—on a wooden board. Make a small well in the center with a wooden spoon and into the well place your meat, covered with a generous lathering of sugo. Serve with grated pecorino cheese.
[…] Read More
See on memoriediangelina.com