See on Scoop.it – La Cucina Italiana – De Italiaanse Keuken – The Italian Kitchen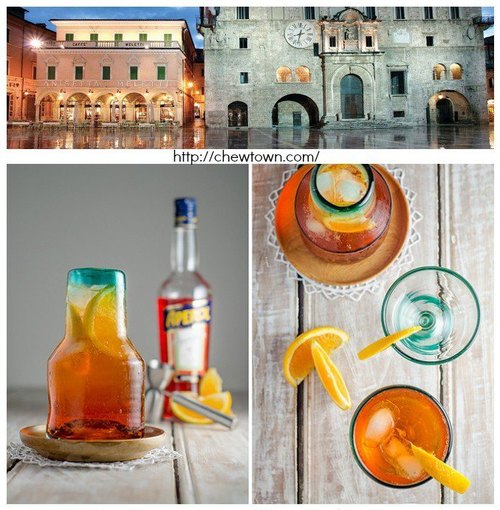 The Aperol Spritz became my particular aperitivo of choice while in Italy. The biggest city near my father's home town was called Ascoli Piceno in the Marche region (you'll hear more about the beauty of Marche and the stay at my dad's hometown in a later post). And in Ascoli Piceno within the Piazza del Popolo (square of the people) there stands Caffe Melletti, a bar opened in 1907 which represents the Art Nouveau style beautifully. Heritage listed and still as charming as the day it was opened, it was here at Caffee Melletti that my love of the Aperol aperitivo was born
Dreaming of it ever since leaving Italy, I am delighted to share my recipe for Aperol Spritz for you to enjoy.
It is a perfect drink to start off your Christmas day feast this year. Especially for those of us who celebrate a Christmas and New Year's beside the beach!
APEROL SPRITZ – Serves one
Ice cubes50ml Aperol75ml Prosecco (Italian sparkling)Soda Water (to top up)1 slice orange
Add Aperol to a large glass filled with ice, then add Prosecco. Stir together and top up with Soda water and add orange.
NB. If making a jug, first determine how many glasses the jug will fill, then increase the quantities accordingly.
See on chewtown.com